By using XMPP combined with JMP.chat, above.phone users can ditch their cell phone service provider and their SIM card!

You can register a JMP phone number without giving any personal information to make calls & texts on your mobile phone. Bear in mind, you need to be connected to the internet to both send/receive calls and texts. You could connect your phone to WiFi, or even have a separate SIM card used only for mobile data.
NOTE: Any phone calls / texts sent over JMP go over the cellular network. Since cellular providers handle this information, it cannot be considered private.  
Above Privacy Suite (APS) customers receive 1 month free trial of JMP.chat, $2.99/mo for the service thereafter. Follow the instructions in this article, no need to pay.
Enrolling with JMP.chat
It is recommended that you have your XMPP account, provided by APS, already set up and ready to go before proceeding! Learn how to setup XMPP here.
Open a web browser and navigate to https://jmp.chat/
Scroll to the bottom of the page and click to select a telephone number in blue or search for a specific telephone number then click Enter.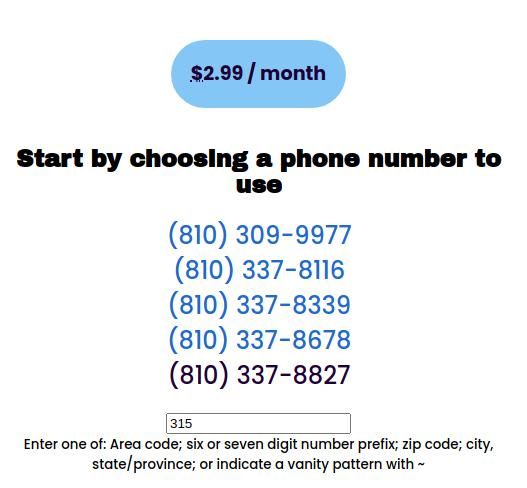 If you choose to search for a specific telephone number, you will be presented with a range of options. (However, if your search criteria is too specific or you attempt acquire a telephone number in an area where none are available, no telephone numbers will be returned)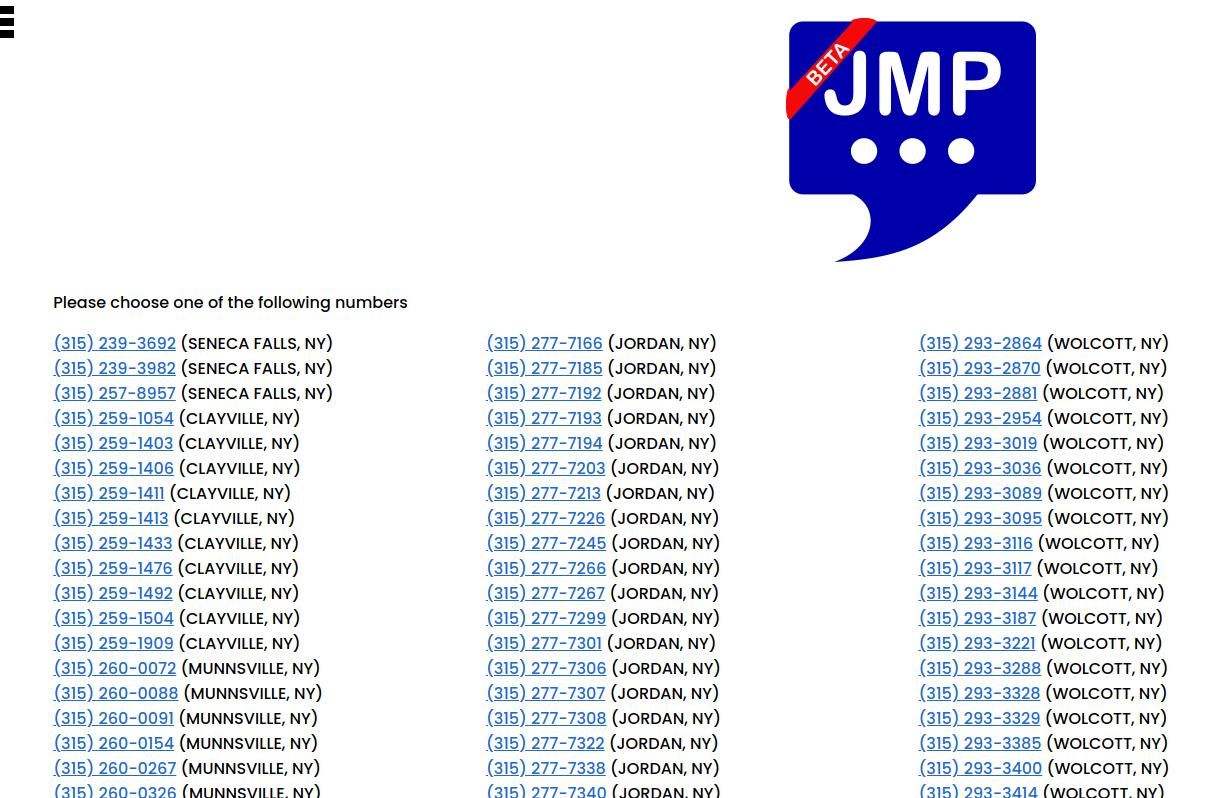 on your desired number and you will arrive here: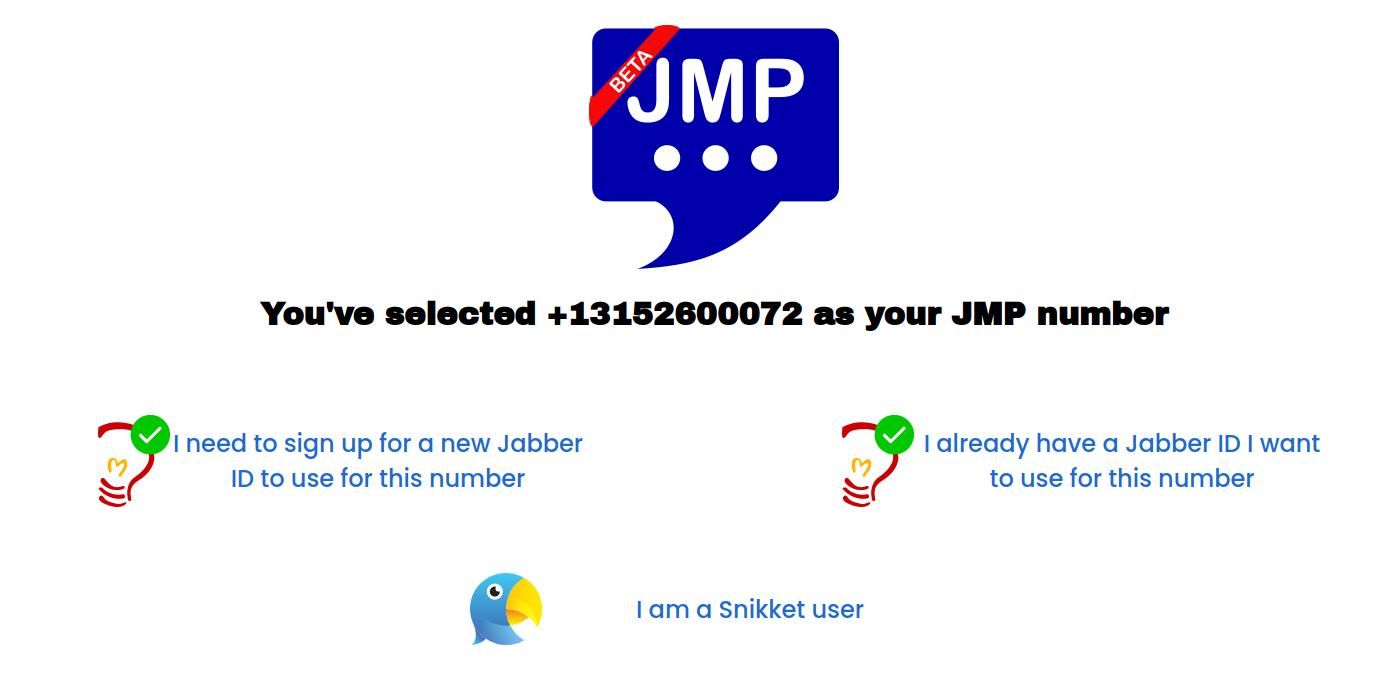 APS customers will have already been provided with an XMPP account name in their via email from Above Agency. The account will look like yourname@chat.above.im
Click on "I already have a Jabber ID I want to use for this number"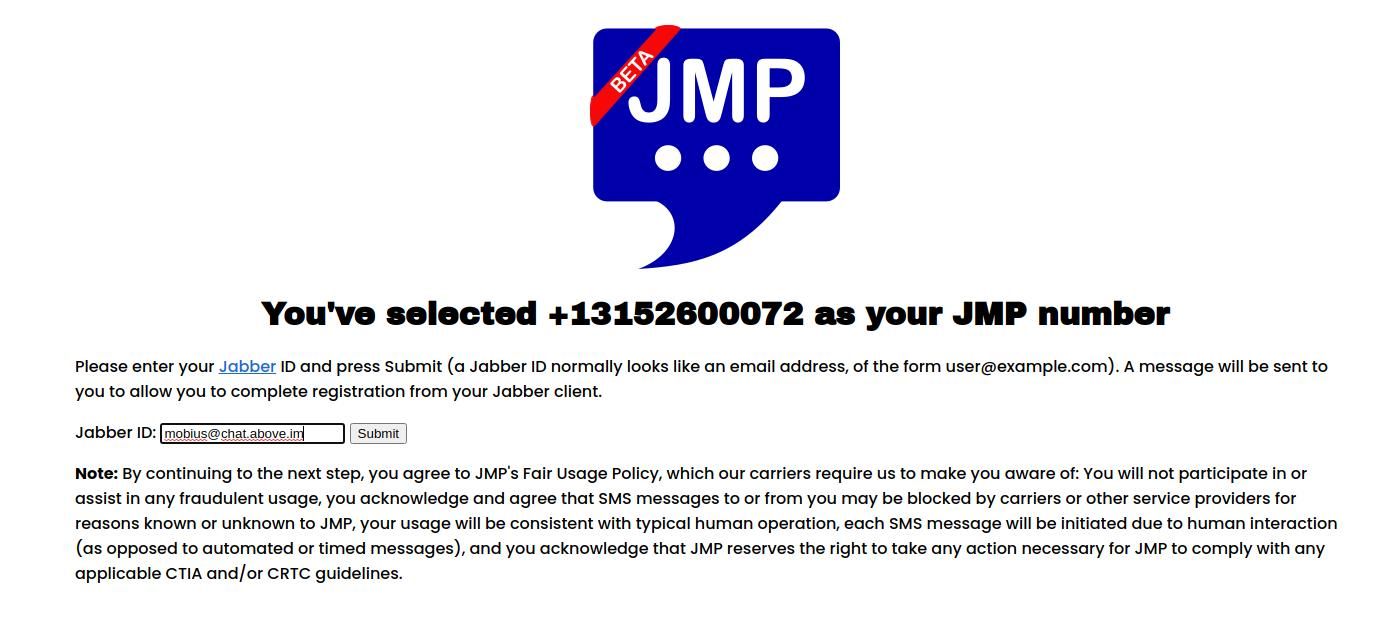 Enter your Jabber ID then click Submit. The following webpage will appear:

However, more importantly, you will receive an text message from sender named "Cheogram.com". Cheogram is a service used by the folks at jmp.chat to register new users, facilitate payments for service and route phone traffic. To activate your chosen telephone number, reply to the Cheogram.com text by typing "register jmp.chat"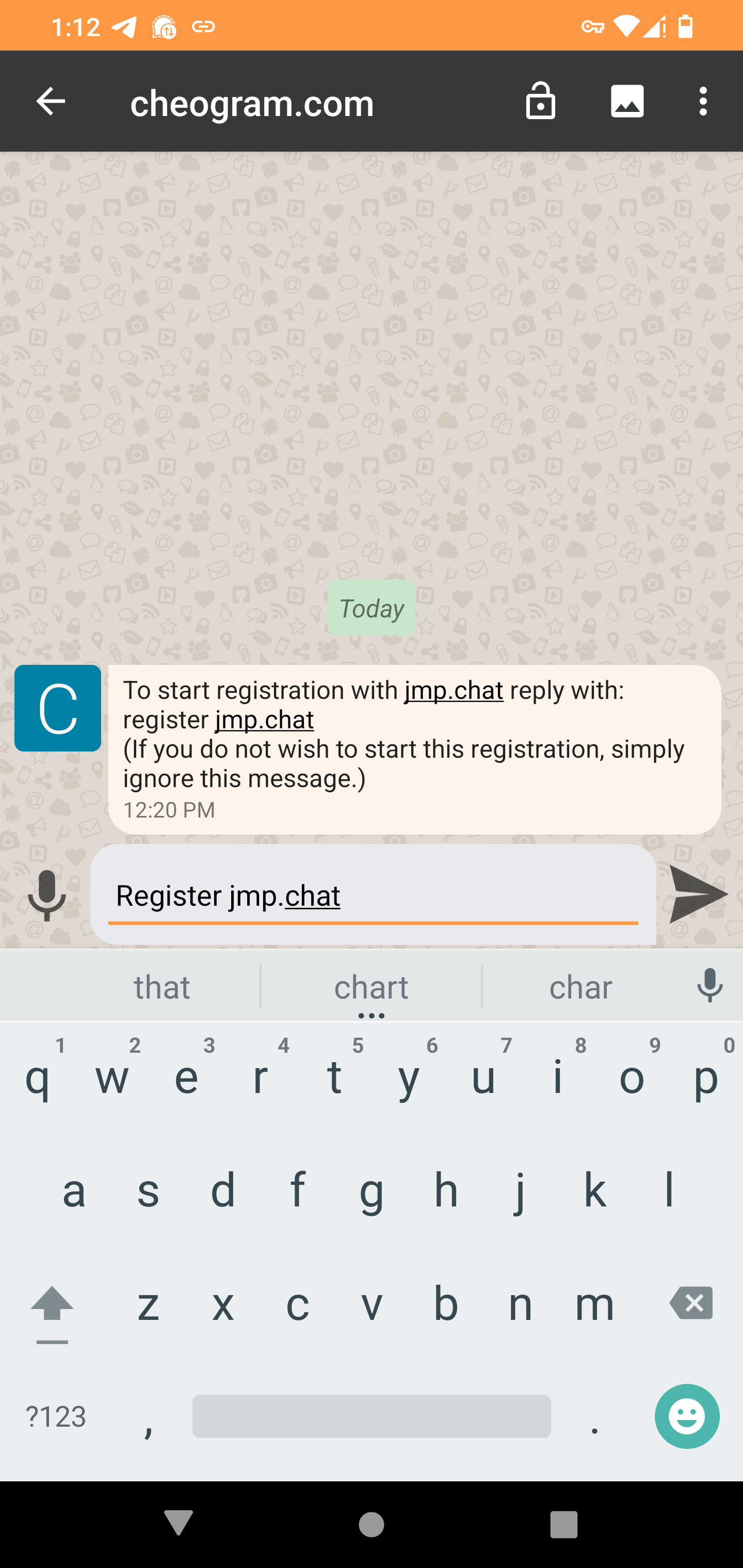 You will then receive a reply from Cheogram asking you to choose a currency for payments. Type "1" for Canadian Dollars or "2" for US Dollars then click Send.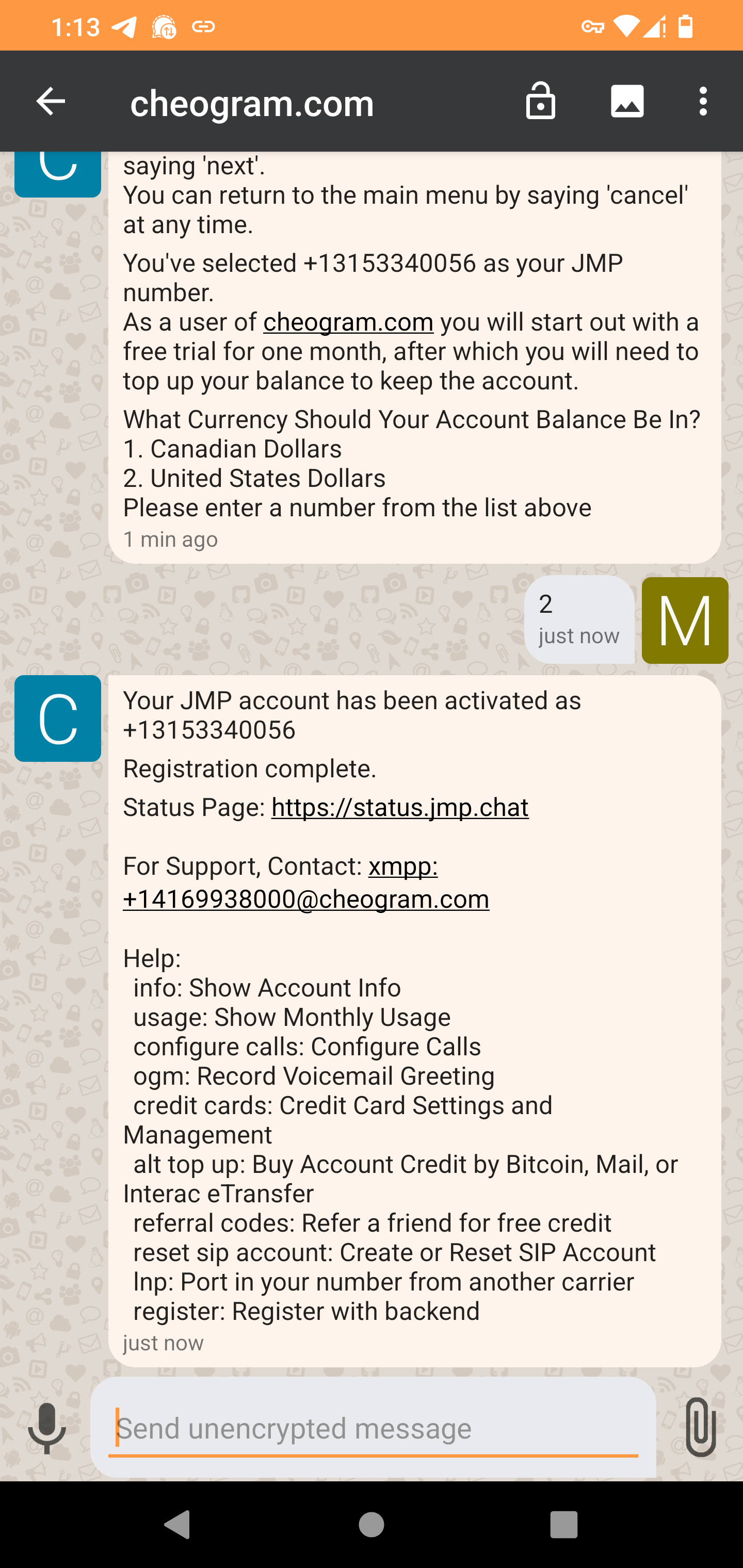 You will immediately receive an account notification from Cheogram (Jmp.chat) confirming your registration/activation of your JMP account/telephone number. Be sure to retain the text thread you have established with Cheogram to initiate further actions (monthly payments, show monthly usage, set a voicemail greeting, etc) as needed. These actions are handled by way of texting with Cheogram in a similar manner as when you registered (eg: type "usage" then Send in Cheogram.com chat to view your message count and minute count for the past 30 days).
Adding Contacts and Calling with Your JMP.chat Telephone Number

--NOTE--
By using the newly realeased application Cheogram as your XMPP client on Android, this tedious step is actually not necessary anymore!

Just login with your XMPP account and give permission to read your contacts.
Now, all the phone contacts you saved WITH country code (+1 ... ) will already show up in the right format for XMPP to reach them and ready to go!

If you don't have the app, you can find, download and install Cheogram from F-droid.
--
For any other XMPP client, follow these instructions:

Now that you have registered your jmp.chat telephone number, it is time to add contacts. We are using Cheogram to route our XMPP texts/calls to the mobile phone system, so we need to set up our new contacts with this in mind.
In your XMPP client, click "Add Contact"
type the mobile number of your contact in the field for "Jabber-ID"
The mobile phone number needs to be in the following format: +countrycode, mobile phone number, @cheogram.com. So, a contact in the USA with the international number +1 (917) 456-9847 would be entered as +19174569847@cheogram.com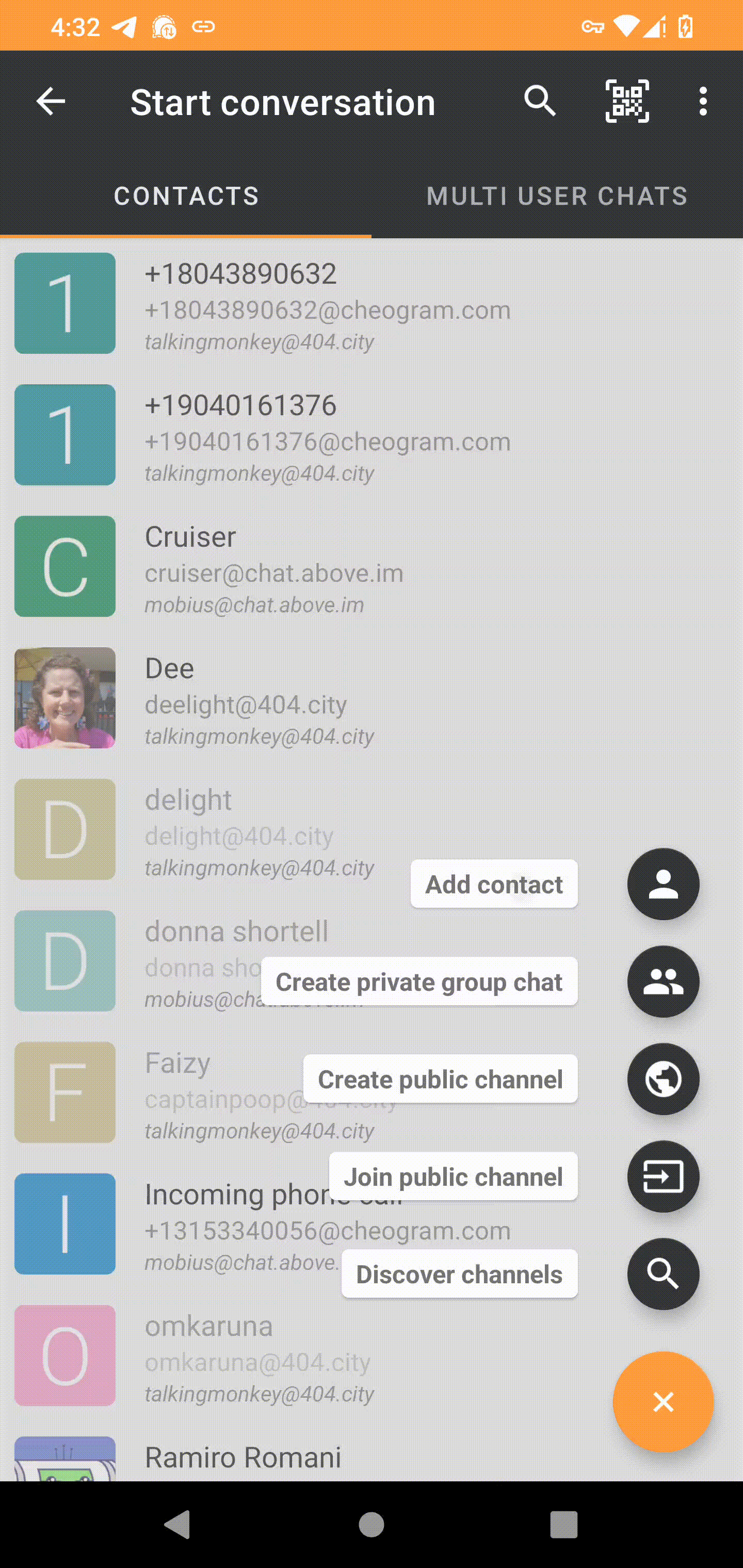 Once you have your contact's telephone number added as a contact, you can then click on that contact's mobile number at the top of the chat thread to add their name: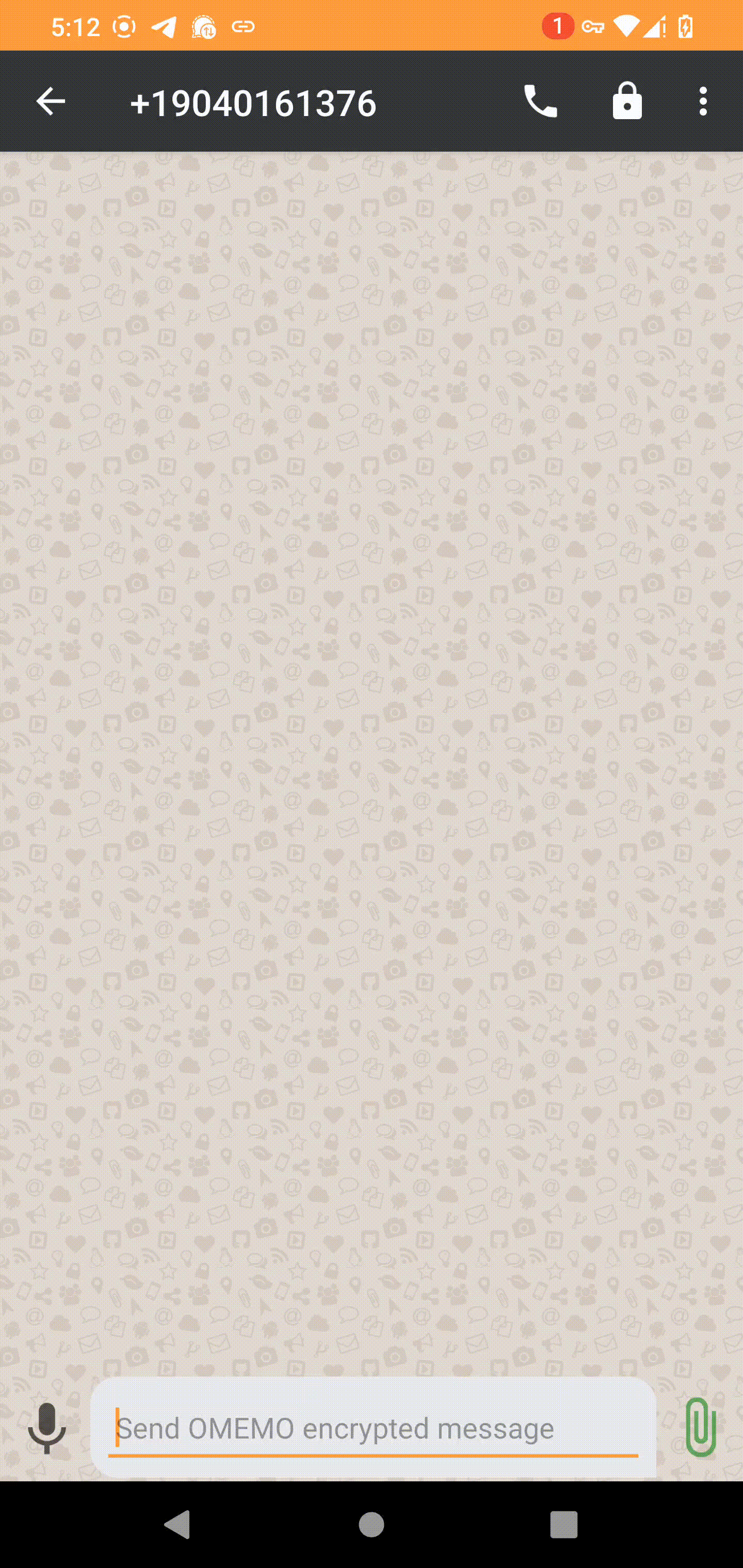 To call your contact:
Open the chat thread created when establishing them as a contact
Make sure the lock icon (to the right of the telephone icon) is UNLOCKED (UNENCRYPTED).
Push on the telephone icon at the top of the screen
Click "Audio call"
Your contact will receive a call that looks like any other call coming from a mobile phone number. They will need to add your new number and your name to their contact list.
WHAT JUST HAPPENED? Your actions above will initiate a call from your XMPP client, route it through the Cheogram service and onto the mobile cell tower system of your contact's cell service provider. Remember, this is not encrypted communication, hence the UNLOCKING of the encryption service noted above!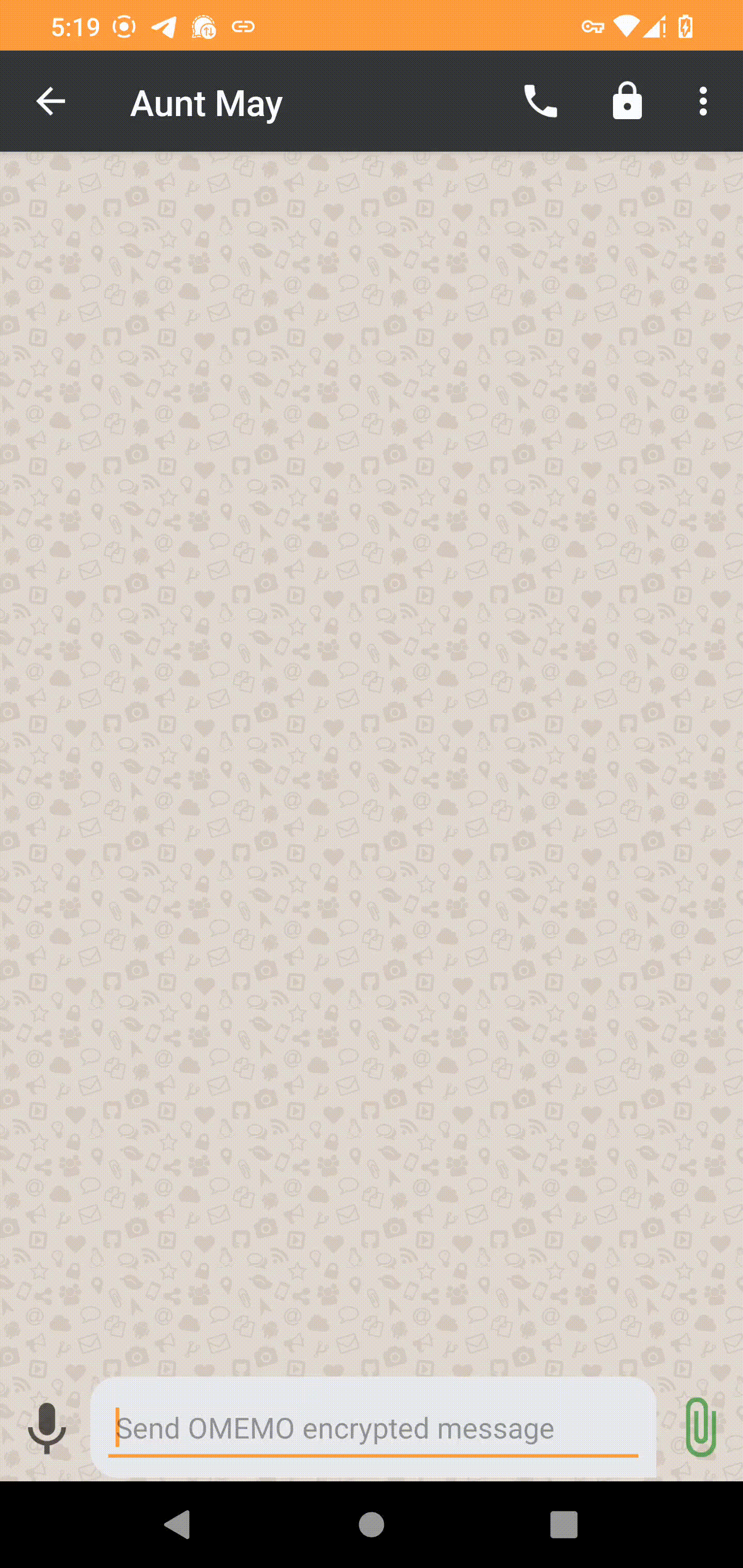 Setting Up a Voicemail For Your JMP.chat Telephone Number
Open your XMPP chat client (Blabber, Snickett, etc)
Scroll to your conversation thread for Cheogram.com and open it
Type "ogm" in the message composition panel then click Send
Cheogram will immediately reply to your text with "You will now receive a call."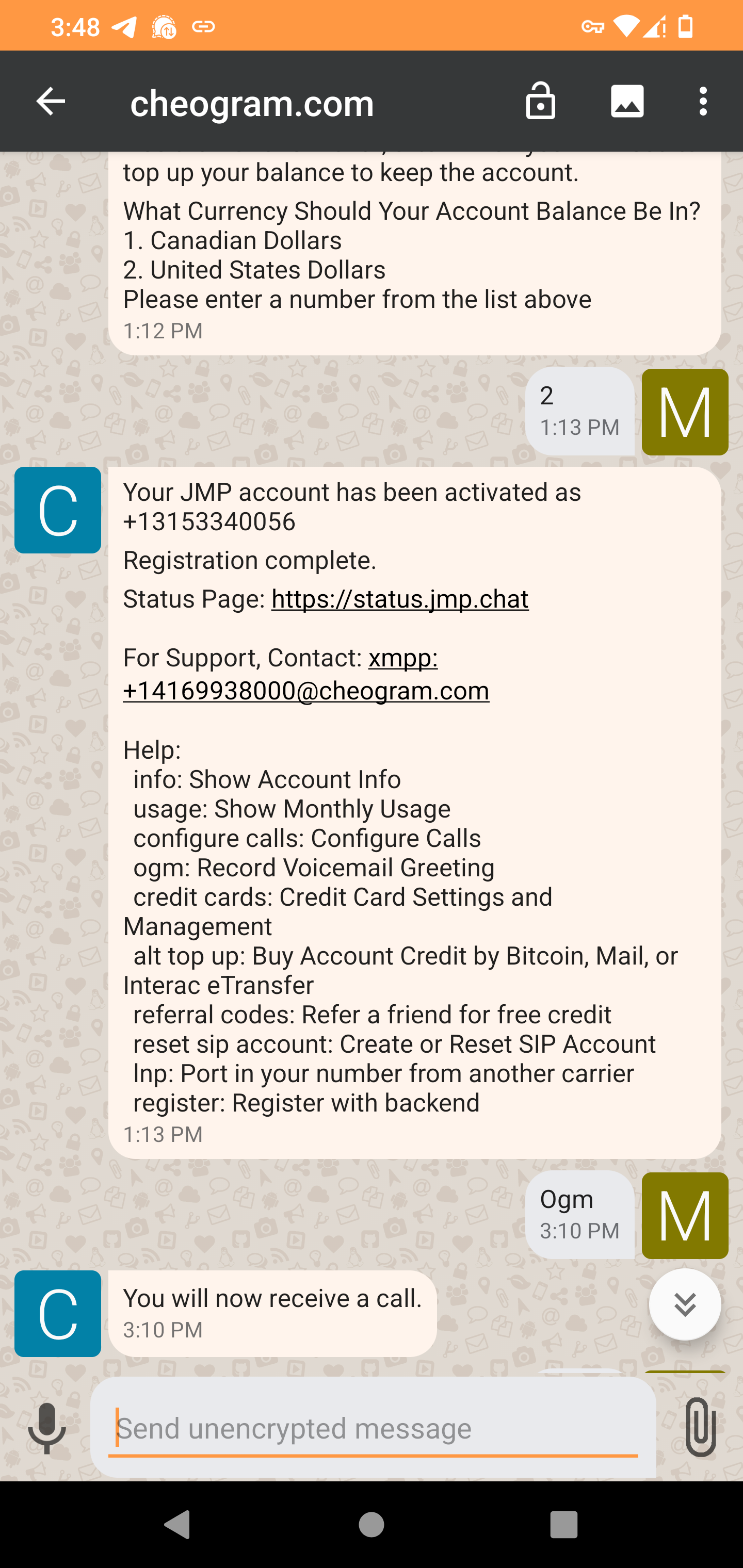 Cheogram will immediately call you through your XMPP client
When you answer the call, a bot will instruct you to "Leave a greeting, then hang up"
A beep will sound
At this point, leave your voicemail greeting then disconnect the call
If you wish to change your greeting, you can send another "ogm" message at any time to Cheogram to set a new voicemail greeting.
Texting From Your JMP.chat Telephone Number
Once you have added your contact to XMPP, texting is simple.
Click on the conversation thread for your contact
Make certain that the lock icon at the top of the screen is UNLOCKED
Enter your text into the message window at the bottom of the screen
Press send
Your contact will receive a text that looks like any other text coming from a mobile phone number. They will need to add your new number and your name to their contact list.
Again, bear in mind that texts send across the phone system ARE NOT and CANNOT be encrypted.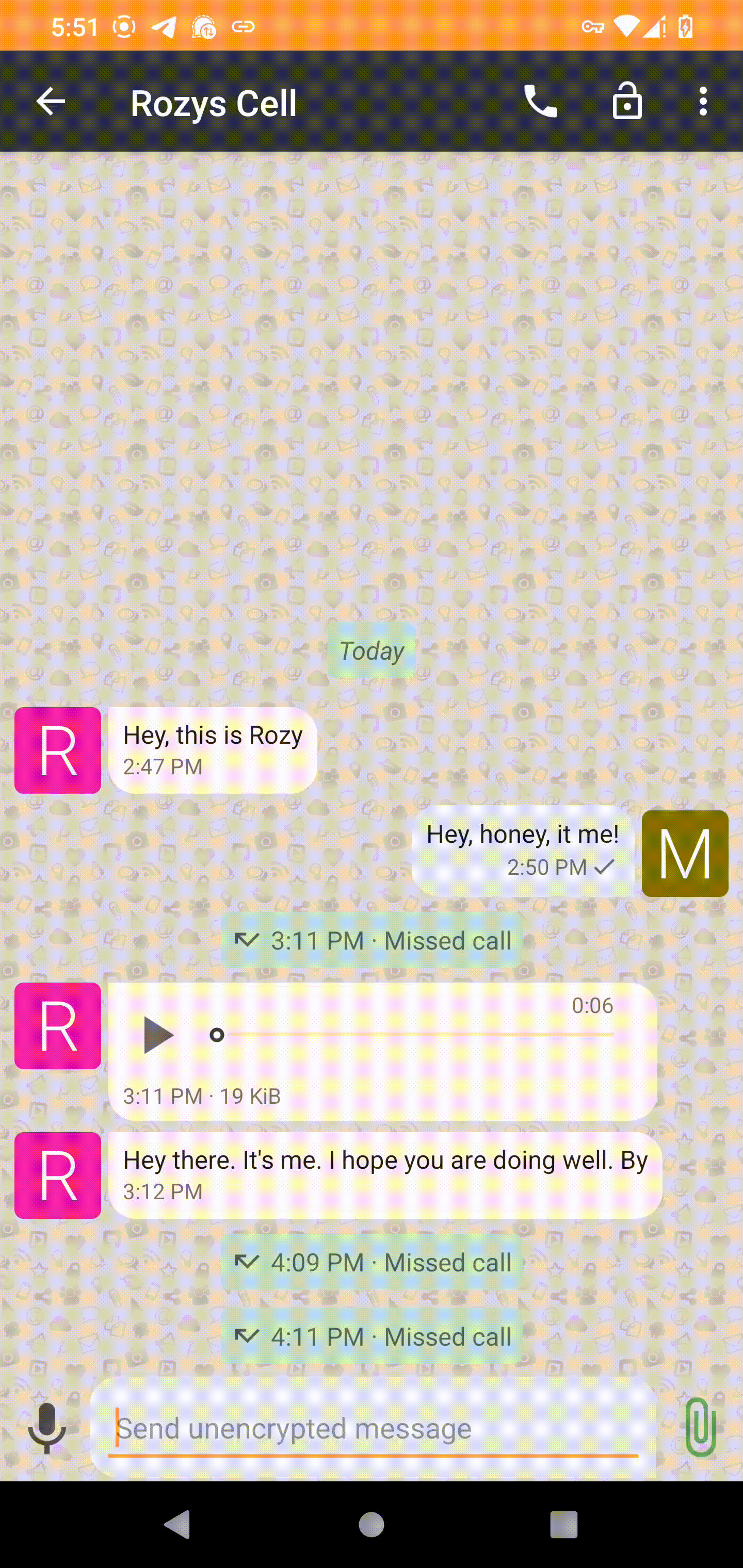 Receiving a Call
For this to work, your Blabber or XMPP client must have phone permissions.

You do not need to be active inside of your XMPP client to receive a call. Incoming calls will:
Sound with your standard phone ring tone
Provide notification of a call from your XMPP client (in the case below, blabber.im is the client) at the top of your screen
Create a popup window that overlays the active window on your phone enabling quick answer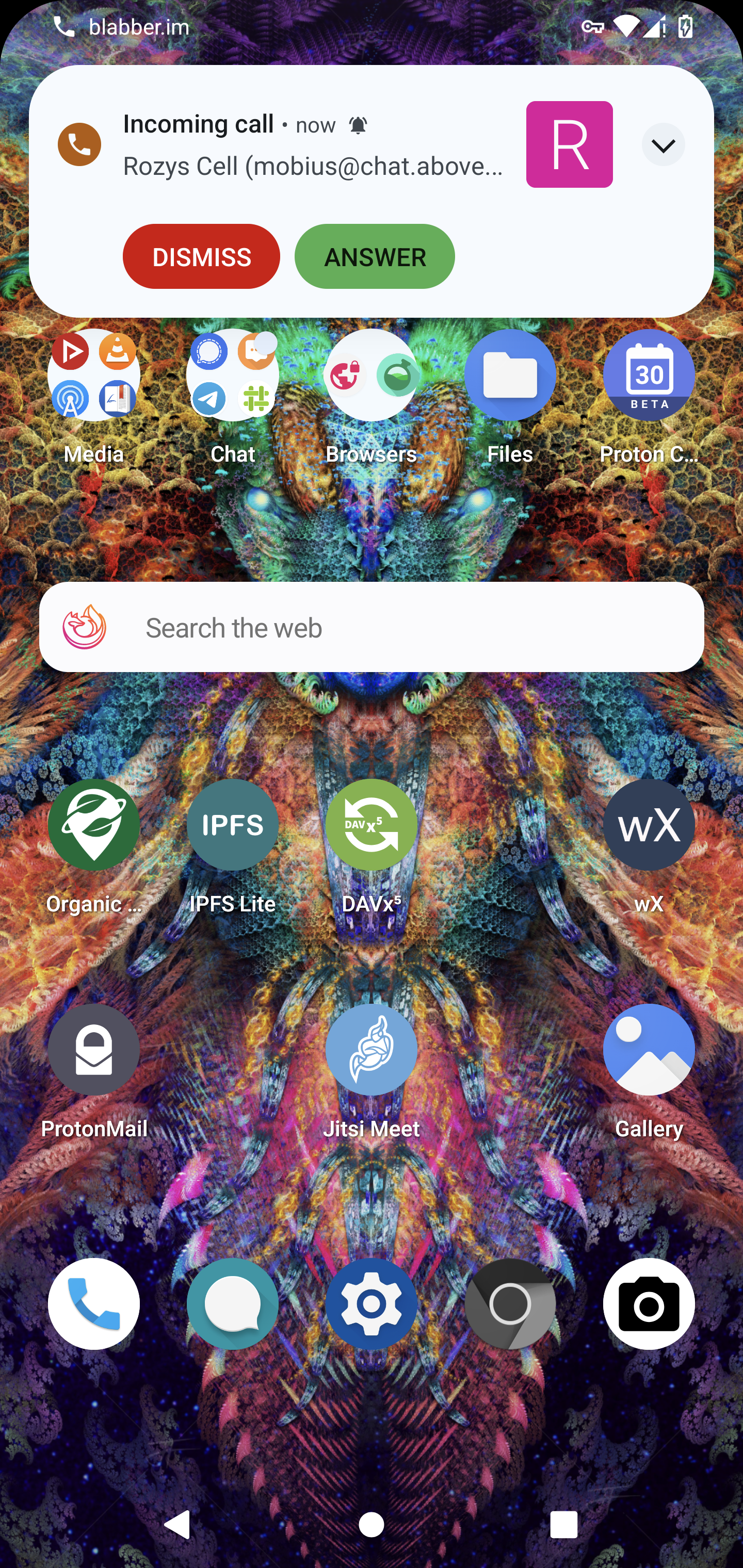 Receiving a Voicemail From Your JMP.chat Telephone Number
If you miss a call to your jmp.chat telephone number:
A missed call message will populate in your systems notifications tray
An unread text will appear from your contact (or an anonymous source if the caller is not in your contacts) in your XMPP client
If the caller left a message:
The unread text message in your XMPP client will include both an audio file of the message left and a dictation of the message along with a time stamp.