In this article we present a easy and quick solution to migrate Emails between different Email accounts. This may also be useful if your Above Privacy Suite subscription (and the Email address connected to it) is expiring and you decide not to renew it. Here we show you how you can transfer all your Emails to a different account and that way still have access to the data and the contacts from your APS Email address.

Also note that this will only work as expected if the storage space from the destination Email is big enough to receive all the amount of data coming in.  
Preparation
Note that both Emails must support IMAP, or it needs to be activated (for example for Startmail or Gmail) and you need the specific server addresses of their IMAP servers.

Sidenote: You can usually find out very quickly on their own website and / or by doing a websearch. (example: just search for 'Startmail imap server')

For the Email address we supply along with the Above Privacy Suite (APS), the IMAP server address is:

mail.above.im

Migration process
To start the actual migration process, we recommend to use the free service offered on this website: https://imapsync.lamiral.info/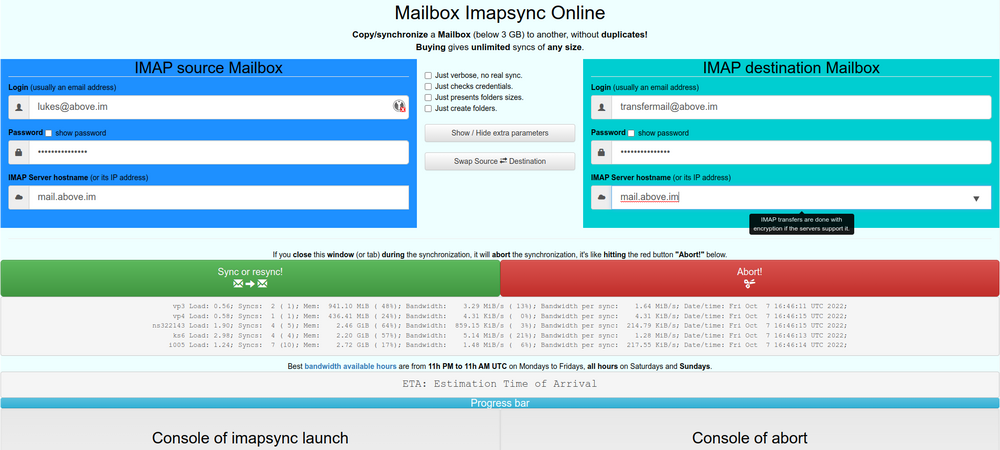 As seen on the screenshot, just enter the credentials accordingly. You will need your Email account, the password, and the IMAP address for both accounts respectively.

On the left is the account you are migrating FROM (source mailbox)
On the right the account you are migrating TO (destination mailbox)

In the middle you can see extra options, By default it will just basically create a 1:1 copy from your source mailbox to your destination mailbox.

Once you specified and double-checked the information and the specific tasks to be performed, you can go ahead and click on the green button saying: '
Sync or resync!
The process will start and according to the amount of data to be transferred will take from just a few seconds, to a few minutes. You can keep track of the process with the progress bar that is shown, it will give you an estimate of the time it takes.

Once the process is done and successful, you should see the progress bar like this:
We're done, and can go and verify the result in the destination mailbox!

Feel free to let us know via Email or in our chat groups on how it worked for you or if you need more assistance.