This guide will walk you through setting up your above.im email (Above Privacy Suite) on your PC. The following instructions are written for Evolution Mail on Linux. The steps will be quite similar for other email clients if you are still on Windows/Mac.

-- Remember --
IMAP is for receiving (incoming) mail.
SMTP is for sending (outgoing) mail.
Email Clients
Linux: Evolution Mail [Install with Flatpak], Mailspring, ThunderBird
Mac/Windows: Mailspring, Thunderbird
Open Evolution
You should be prompted to setup a new account if you open the program for the first time.
If not...
File -> New -> Mail Account
Click Next on the Welcome page!
Identity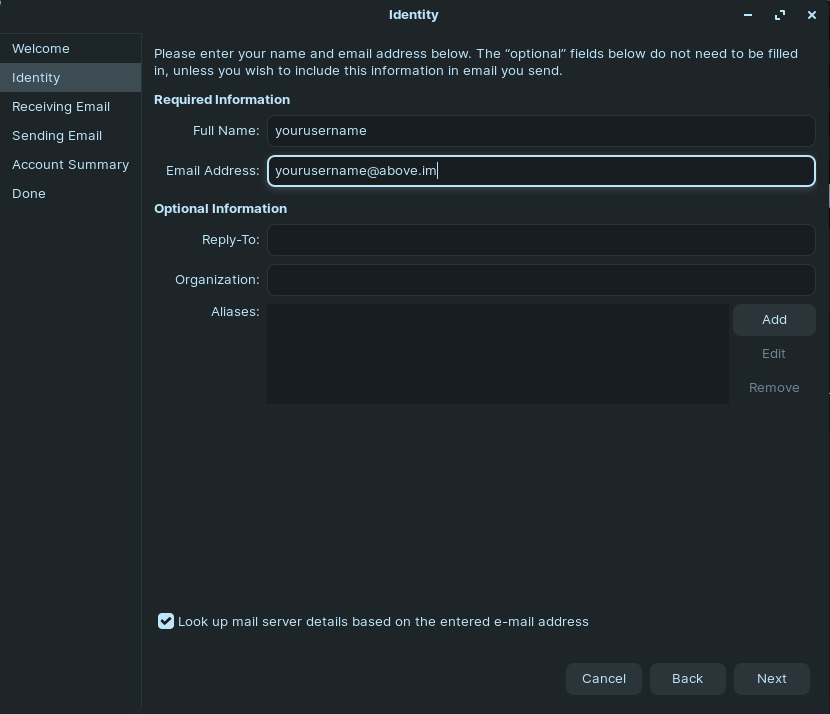 Input your display name in Full Name. This will be displayed when you send emails.
Input your email address: <user>@above.im
Click Next
Receiving Email
Set Server Type to IMAP
Set Server to mail.above.im with port 993
Encryption method: TLS on a dedicated port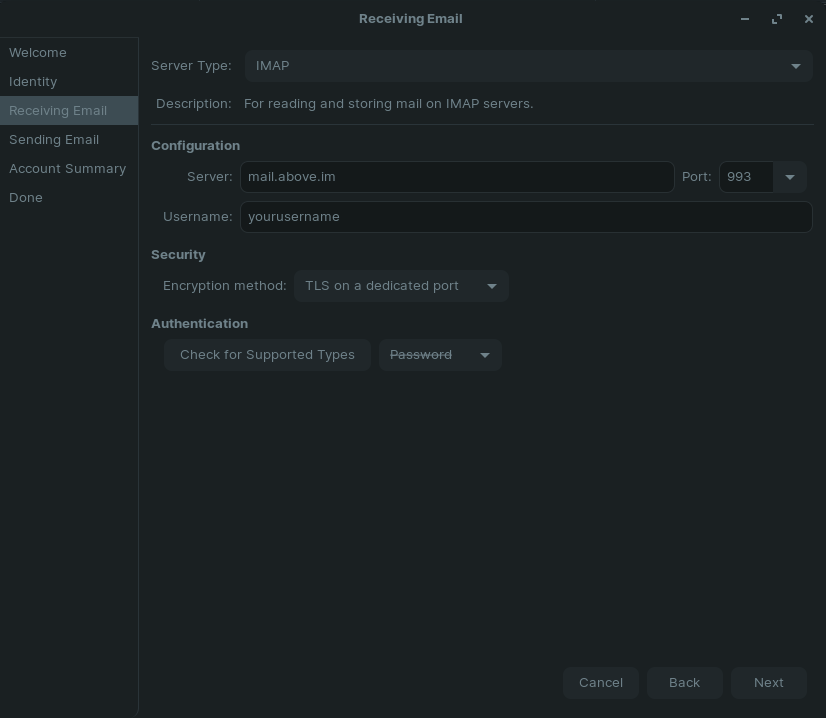 4.  Click Next
Receiving Options
Feel free to change these as you see fit. Default is fine for now, you can change these later.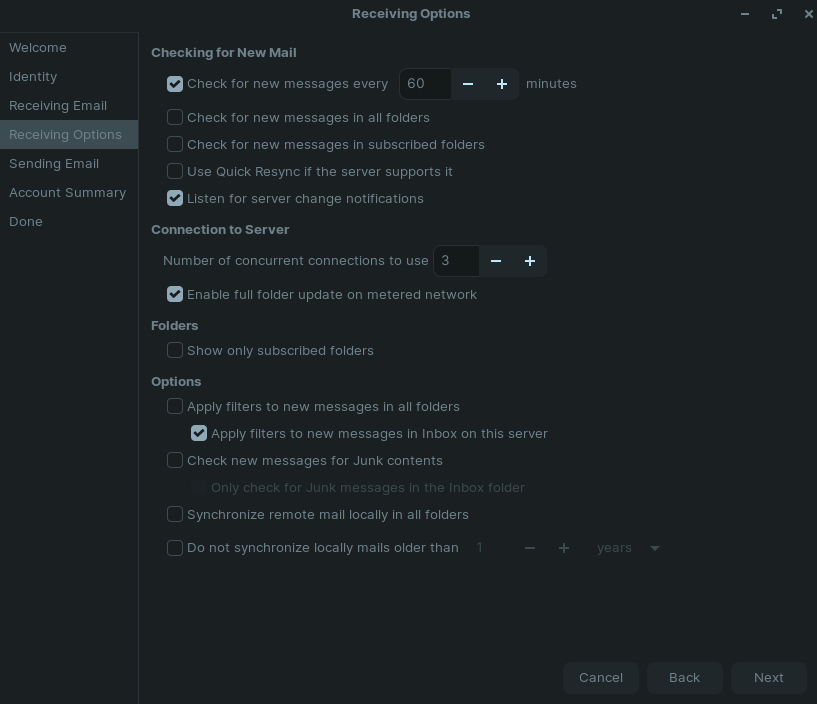 Click Next
Sending Email
Set Server Type to SMTP with port 587
Set Server to mail.above.im
Change Encryption method to: STARTTLS after connecting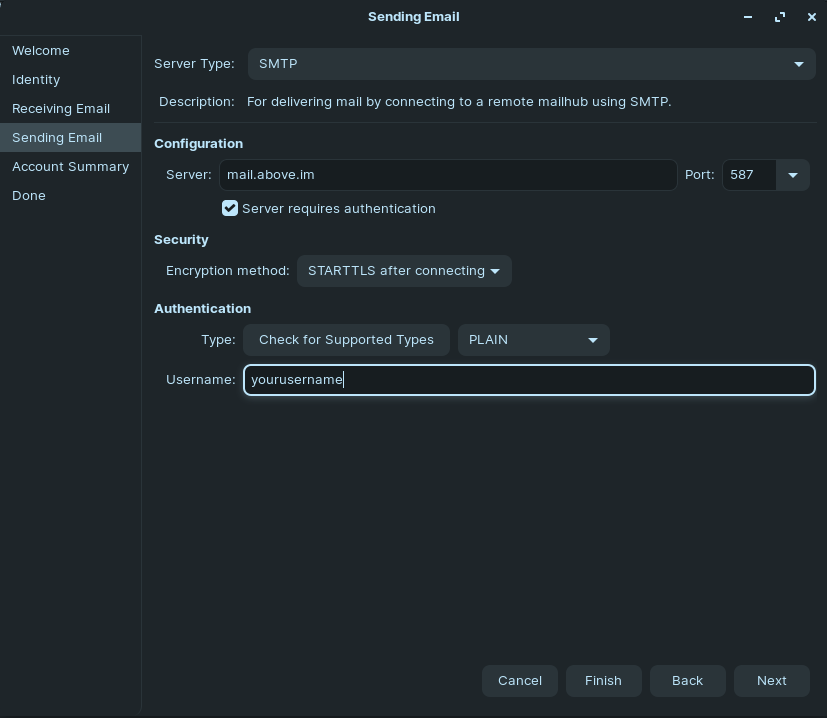 4.  Click Next
Account Summary
This page is to review the information.
No need to change the Account name. This is only what is displayed on your PC in the Evolution email client.
Click Next
Done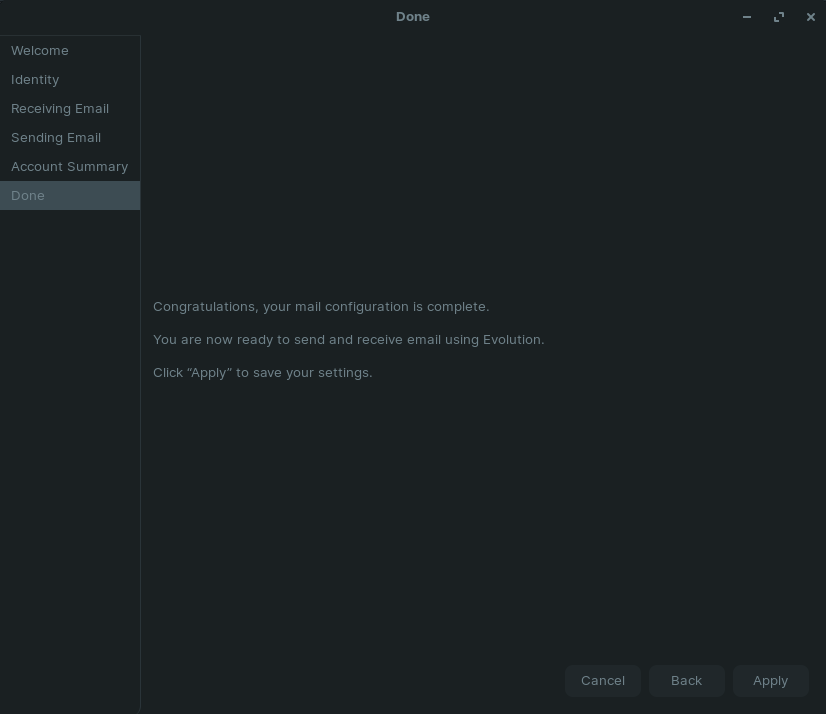 Just click Apply
Mail authentication request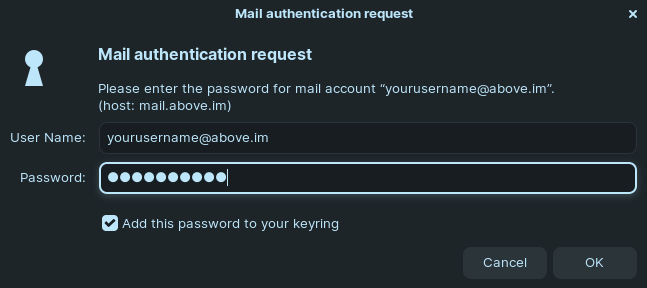 Now, you should be prompted to sign in.
You may want to consider checking the checkbox "Add this password to your keyring" to automatically login when you open Evolution Mail.
Ensure your username:  <user>@above.im
Enter your password

Note: This is the same data you defined right when creating your Above Privacy Suite account on register.above.im

Click OK


That should be all!
Feel free to test the setup by sending and receiving some Emails right away.